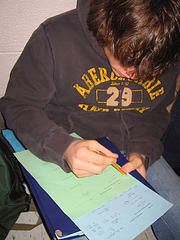 Kevin Cannon is a talented Irish designer who's based in Dublin (though currently living the student life as he completes a Masters degree in Copenhagen).  He has a nice portfolio site located at www.kevin.ie, though perhaps it's a bit too nice? Kevin alleges that hat the owner of kevinnorton.info seemed to think it was so nice that it deserved to be ripped off almost identically – the only noticeable changes being that the contact information and name was removed, and the "author" meta tag removed from the HTML.
I'd be jumping the gun in claiming that Kevin Norton plagiarises content from others, but apparently the original owner sent him a cease and desist email back in February – which he complied with, before putting the content back up again recently.
This might be relatively annoying were it not for the fact that Kevin Norton has misrepresented Kevin Cannon's portfolio of work as his own. Let me repeat that – Allegedly Kevin Norton is claiming that the past work of another designer is his own on a portfolio site which he uses to apply for business. Someone that is happy to copy content to such a degree and then has the chutzpah to claim that he's a designer is offensive.  We need far less of this type of copy/paste "professionals" out there.
Click here for a side-by-side comparison of how Kevin Norton allegedly copies content and passes it off as his own.
** Update **
It seems Mr Norton has removed all the content from kevinnorton.info, and it's now just showing a 404.
** Update April 2010**
He's at it again – for the third time according to the original artist. The front page layout and the majority of the work listed is all  work that was originally created by Kevin Cannon.  Can we claim that Kevin Norton is a Thief?