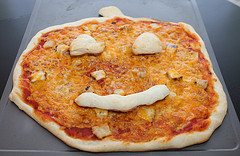 I've been living in Berkeley for about a month now, and have passed by one particular pizza restaurant a few dozen times but never gone in. Why? Every Thursday, Friday, and Saturday nights there are lines from the door of this restaurant back to the start of the block. Eventually we decided that the food must be good enough to hang around in a queue for a while and after hearing a few recommendations from friends we decided to check it out.
This particular restaurant puts on a jazz band, so the wait wasn't going to be too terrible. There must have been 25 people in the queue when we joined. How long did it take to get our pizza?
About 4 minutes.
A restaurant this popular has to have dozens pizza toppings, right? How many different types of pizza were there on the menu?
One.
By focusing on creating one style of pizza a day, this restaurant succeeds in being able to rapidly produce delicious food that people will queue around the block for. People sometimes come as much for the jazz band as they do for the pizza – after collecting their box they'll sit on the street median eating pizza and listening to jazz. It's not uncommon on a Saturday evening to see dozens of people sitting out.   That they can focus on creating this one type of pizza means the queue moves rapidly. Also, they only accept cash, and the pizza is priced to be easy to manage – 10 dollars for half a pizza, 20 dollars for a full one. Perhaps slightly more expensive than your standard pizza, but how did it taste?
Amazing
If you care about the software you write, then you've read "Getting Real" by 37signals. Think of this pizza restaurant the next time you're creating software – Build less, but make the "less" amazing. Your customers will love you, and if you get it right they might just queue around the block.